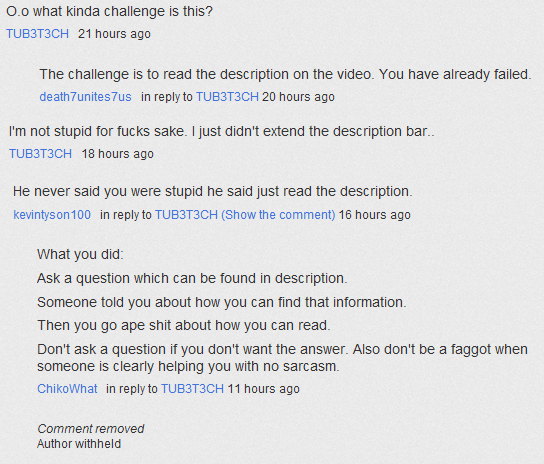 The withheld comment is as follows:
Wow. You sir, are a genius. You lot are ridiculous, seriously. Writing a novels about something that is NONE of their businesses and go beserk on a single guy. Great. You just made the world a better place.
Unsubscribed this filth of youtuber. Jog on.
-TUB3T3CH
Wouldn't be as funny if it weren't for the fact that the challenge rules are clearly stated in the description of every single video in the series. I do that because putting it on just the intro video causes people to have to go back and read them, or just not read them at all.
I write a novels about stuff thats none of my businesses all the time.

_________________
And then, we'll soar. It doesn't matter what you've done, what I've done, what has happened and what is about to happen. I know, it hurts. But the truth is, I don't care anymore. I don't care because I have something far more important to care about now. I have you, and you are everything I'll ever need and ever wanted. So, we'll leave that all behind, we'll make our own destiny, together, and then, we'll soar.