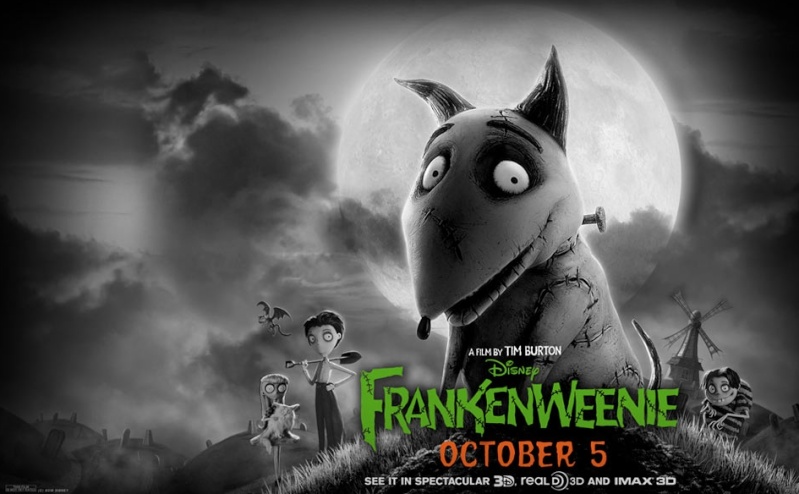 Tim Burton makes another interesting movie about dead things.
Pros:
-Makes me think of Nightmare Before Christmas
-Cute
-Looks really good
-The entire thing is black and white. Some people think this is stylistic
Cons:
-The entire thing is black and white. Some people think this is stupid
-No real story element that sticks with you.
-No real moral. Science is only good when you use it for good? Great maybe if you're a scientist.
-Not very funny
-Characters are forgettable, and the main character isn't that likable
Conclusion: It was kinda mediocre. Should have been funnier, should have had more likable characters, and maybe it should have actually been in color. Black and white is great but in this case there was barely a reason for it to be black and white, other than the fact that there was a theme of death sort of played out. It's not "Halloween Town" and other than the fact that it is a play on the classic Frankenstein story, the lack of color just makes it seem boring. I don't know, I'm sure other people have a different opinion, this is just mine. Plus I find it's a terrible date movie since your date may not be into old literature, so the black and white just confuses them and you almost seem cheap since you brought them to a colorless movie. What seals it for me though more than that is the lack of moral.
Spoiler:
The only sprinkle of take home message in the movie is when the science professor says that science has to be used for good or else it won't work, but if you aren't an aspiring scientist I fail to see how this appeals to kids or adults. But maybe this movie will stop one kid from strapping rockets to his dog's back in the name of science.

_________________
And then, we'll soar. It doesn't matter what you've done, what I've done, what has happened and what is about to happen. I know, it hurts. But the truth is, I don't care anymore. I don't care because I have something far more important to care about now. I have you, and you are everything I'll ever need and ever wanted. So, we'll leave that all behind, we'll make our own destiny, together, and then, we'll soar.